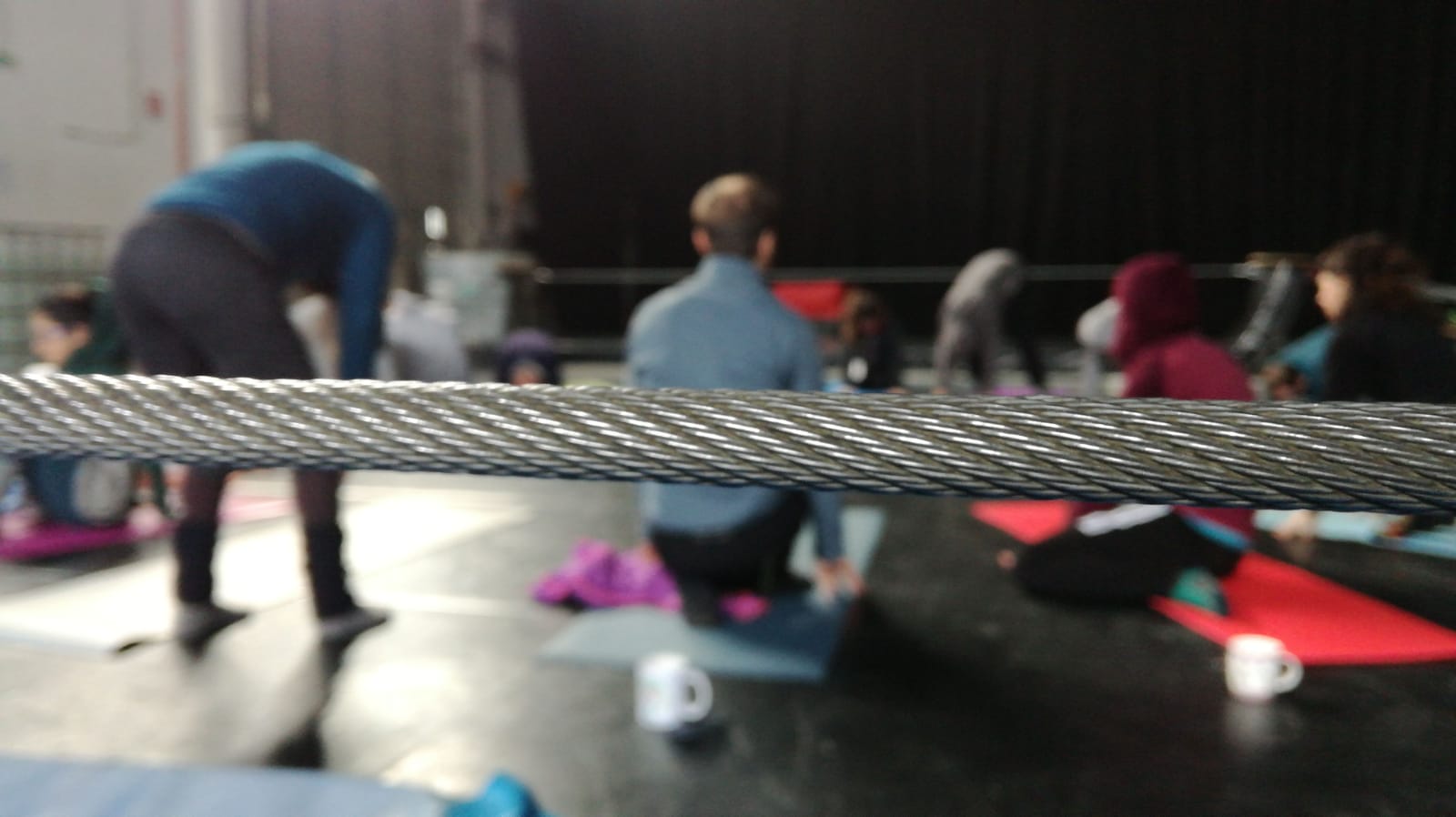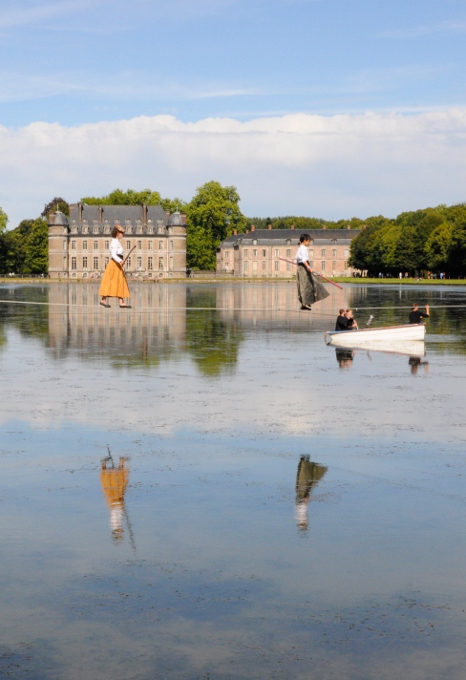 WIRES CROSSED
Funambulism Revolution – Wires Crossed Italy
Training project for professionals, curious or aspiring tightrope walkers, who want to try to take the first step on the cable. Based on the belief that tightrope walking is both a spectacular circus art and a way of raising awareness, workshops are open to all and everyone, and no skills or previous experience and training are required. Workshops heal minds and bodies, inescapably.
This training project ended with an exceptional performance on August 8 and 9, 2020 in Ireland. The protagonists were 400 tightrope walkers who walked for 2020 minutes over the main river in Galway, European Capital of Culture 2020. Andrea Loreni was one of these walkers.
The main objective of the project, however, has not been yet totally accomplished. Andrea Loreni wishes to initiate a process of recognition and study of funambulism – as a discipline – in Italy and to open a research center on tightrope walking in collaboration with Giulia Schiavone (PhD at the Department of Human Sciences for Education "Riccardo Massa" of the University of Milan "Bicocca" ad researcher) and the University of Milan Bicocca.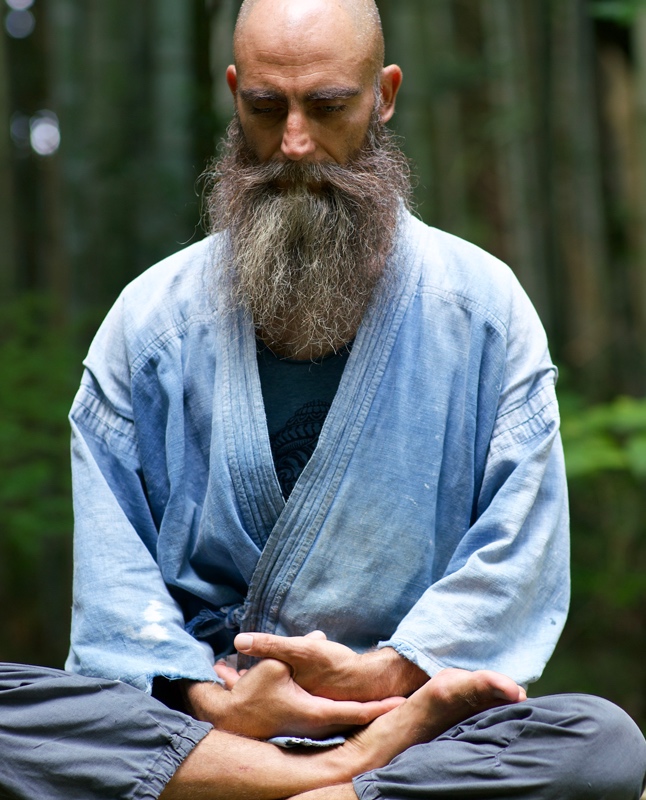 ZEN AND FUNAMBULISM
Zen and tightrope walking is a composite project whose heart was the crossing on a steel cable of the lake of the Zen temple Sogen-ji in Japan in August 2017. This place has a special meaning for Andrea Loreni since he spent a lot of time there, over the years, deeping the practice of Zen meditation.
Many conferences through the country followed this particular crossing and this project inspired a documentary, "Any step is a place to practice" directed by avantpos. The documentary reflects on the experience of the tightrope walker and on his journey as human being in search of his authentic self. Funded in collaboration with Zen and Funambulism crowdfunding campaign on Eppela (https://www.eppela.com/it/projects/12759-zen-e-funambolismo).
Special Thanks Go To Vanni Anguillesi, Eppela.
A kiss to:
who supported EPPELA project:
Edoardo Parolisi, Maria Schiavone, Claudia Conti, Andrea Grasselli, Stefano Lucchetti, Lorenzo Cecchi, Marco Binando, Fabio Cuccè, Gabriele Ghio, Alex Gabellini, e Ciniza Gessi e Matilde, Christian Antognini, Charlotte Pescayre, Thomas Pololi, Annachiara Casalini, Moioli Nicola, Miryam Ciaccia e Francesco Ricco, Valerio Perino, Simona Casolari, Sara Dematteis, Simone Papalia, Hannah Carolina Braus, Silvio Porzionato, Ondino Pugiotto, Andrea Vironda, Monica Budzinska, Silvio Ranieri, Daniele Gili, Andrea Tarro Boiro, Francesco Percassi, Jordi Beltramo, Alberto Barbi, Marco Toninelli, Cristiano Boggi, Anthony Trahair, Valter Vico, Beatrice Cinelli, Stefano Partisani, Giorgio Finello, Paolo Baggio, I Cortello Parruchieri ( Egidio e Cristina), Greta Mantovani, Maria Cristina Bertolo, Federica Loreni, Loris Maurizio Mina, Daniele Rizzuti, Giuseppe Andrea Saggese, Associazione VEGA, Gianni Iosca, Fabiana Degrassi, Maurizia Rebola, Cristina Pavia, Silvia Faimali, Marco Beri, Daniele Capacci, Stefano di Gioia, Elisa Calvaresi, Laura Barattta, Mariateresa dell'Aquila, Alessandra Pasini, Mauro Magnani, Daniele Banchio, Ilaria Ferrari, Lorenzo Maffiodo, Mario Fatibene, Gabriella Giacomini, Gisella Molino, Laura Lucia Balocco, Valerio Caliaro, Edoardo Colonna, e Francesca Frediani e Sofia, Matteo Caccia, Andrea Iucci, Corrado Sponza, Just for Joy European Association, Borelli Luca, Maria Grazia Matta, Marco Camerlo, Roberto Moretto, Roberto Vitali, Paola Colonna, Lorena Conti, Eleasa Canonico, Maida Caria, Paolo Frediani, Erika Silvestro, Marta Azzurra Brognoli, Valentina Pasqualino, Claudia Toso, Marco Del Tredici, Leonardo Angelini, Luciano Carriero, Claudio Coticoni, Rossana Padovani, Paolo La Torre, Paolo Bertuzzi, Paolo Ciccarelli, Emilio Dal Bo, Azienda Paradisi, Alessandro Castelletto, Angela Chiacchio, Marco Bartolomucci, Fabrizio Rossetto, Arianna Coretta, Daniele Leone, Stefania Granato, Charalampos Theologitis, Julie Uni, Sara Pauluzzi, Veronica Carvelli, Chiara Lo Cascio, Fabio Bobbio, Alessia Nicastro e Stefano Buffa, Michele Burro, Angela Alfieri, Angela Pezzoli, Mara Ferrando, Eva Volpato, Maria Burro, Matteo Giussani, Marco Provenzano, Luca Anceschi, Marco Mirolli, Mario Barnaba, Sara Puccioni
Who supported extra Eppella
Marisa Derossi, Alberto Giusti, Grace Ielapi e la scuola Up Circo di Bra, Manuel Pennecchi, Claudia Ossola, Debora Cardillo, Fabio Franzin, Cristina Longo, Serena Causi, Tea Pochettino, Paolo Gamba, Manilla Calabrese, Astrid, Pina, Nicoletta del gruppo Parto a Casa, Federico Tribucco, Toni D'Anca, Andrea D'Ambra, Georgia Velia, Chiara Ruffino, Albino Trucano, Nilina Agnese, Ausilia Vironda, Elena Macocco, Maurizia Lacqua, Giulia Caddeo, Carla Berta, Esther Di Biase, Silvia Toffi, Beppe Martino, Walter Giorgio Muà, Gabry Zanone, Stefano Repelli, Betta Dutto, Marco Magnino, Enrica Greco, Alberto Viola, Giulia Schiavone, Francesca Antonacci.
Asuka Ozumi e il CESAO, Centro Studi sull'Asia Orientale di Torino, for video translation
Enrico Salmasi and Gabriele Maffiodo [avant|post] for the videos
Alfonsa Sabatino, Edoardo Parolisi and Carola Nota, Thunder Communciation
Francesco Ricci and Enrico Seimandi dj set at the party #iltuoequilibrio
Flic Scuola di Circo di Torino and Reale Società Ginnastica Torino
Italian Institute of Culture of Osaka
University of Milan Bicocca
Tin Pan Alley hot jazz duo ( Luca and Marta ) Honky Tonk School, for their music
Concy for the deep handwriting and fabolous sumi-e
Sara Spezzaferri and her attention and care
Once again my wife Claudia who took care of conferences and always supported me with love
Who helped me to spread the project hosting my lectures and presentations
Maurizia Rebola, Fabiana Degrassi, Giorgia Tomatis, Jennifer Bevilacqua and Il Circolo dei Lettori of Torino and Novara
Elena Franceschini and Pietro Arrigoni, Flero
Simone Bonetti and the Proloco of Ardesio all the ardesiani
Associazione Hokuzenko, zen rinzai, Torino
Antonello Cesari and Zenshinkai of Pisa
Libreria Tlon in Rome
S8S8 freediving group Torino
Elena Burani and Ghirba, biosteria in Gabella, Modena
Elisabetta Dutto, Sabrina Mannarino, Beppe Pezzetto, Parrucchieri i Cortello and the town of Cuorgnè
Enrico Partisani, the Proloco of Pennabilli, Artistiiniazza, and all the Pennesi
Grace Ielapi and Up Circo of Bra
Maria Burro of the Dynamic District 10082 of Cuorgnè
Marco Conti of Alvise Group ( Almese vive senza )
Andrea and Patrizia of Studio 109 in Genova
Alberto de Simone and Emanuela Patella del Celso, Institute of Oriental Studies of Genova
Matteo Caccia and the Pinch of Milano
Jacopo Di Nardo and the Lyceum of Human Sciences Regina Margherita of Torino
all friends who supported me and helped with ideas and words and speeches and advice and hugs